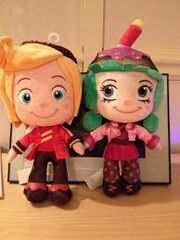 Candlehead and Rancis, AKA Birthday Butter, Candle Butter, and Peanut Butter Cupcake, is a couple made by Sugar Rush fans.
About the couple 
It's speculated that Rancis and Candlehead are very close, as they hang around most of the time with Taffyta Muttonfudge. As a result, some fans think that Rancis and Candlehead may have had a relationship. Candlehead is sweet, and mellow enough to put up with Rancis' self-obsession, so the two probably get along splendidly even if as friends.
Some people view it as a one-sided crush, like Vanilla Swirl, or just as a friendship, and others see it as a mutual relationship.
Trivia
Peanut Butter Cupcake isn't as popular as the bigger ships, like Vanilla Butter or Vanellope and Taffyta, but still has some following to it.
On the tumblr blogAsk the Sweet Three , Candlehead has a huge crush on Rancis. He doesn't seem to notice yet, however.